First in line and vendors are early visitors to Trump rally
President Donald Trump is scheduled to attend a fundraiser and campaign rally in Evansville this evening.
Traffic and parking could be the real challenges as an estimated 15-20,000 people descend on downtown Evansville for the events.
Wednesday afternoon, Sharon Anderson drove in from eastern Tennessee with her daughter to be first in line outside the Ford Center.
"Yessir, this is my fifth Trump rally."
Why five rallies?
Anderson said, "Well, Donald Trump is the essential showman. When he talks, he keeps your attention."
Also in a good mood was Zakos Williams of Columbia, South Carolina, who set up his Trump apparel tent just across the street.
"This Trump money is pretty good money."
Williams says he follows the Trump campaign to every rally around the country. But it wasn't always that way. He says he got started with his apparel business in 2008 with the campaign of Barack Obama. He said, "The number one question I get is, 'Are you really for Trump?'"
083018_trump_vendor.mp3
Zakos Williams talks about his business and why he now supports Donald Trump.
The Trump campaign says the president will talk about trade, immigration and coal. He's also supporting Republican Mike Braun in his bid to unseat Democrat Senator Joe Donnelly.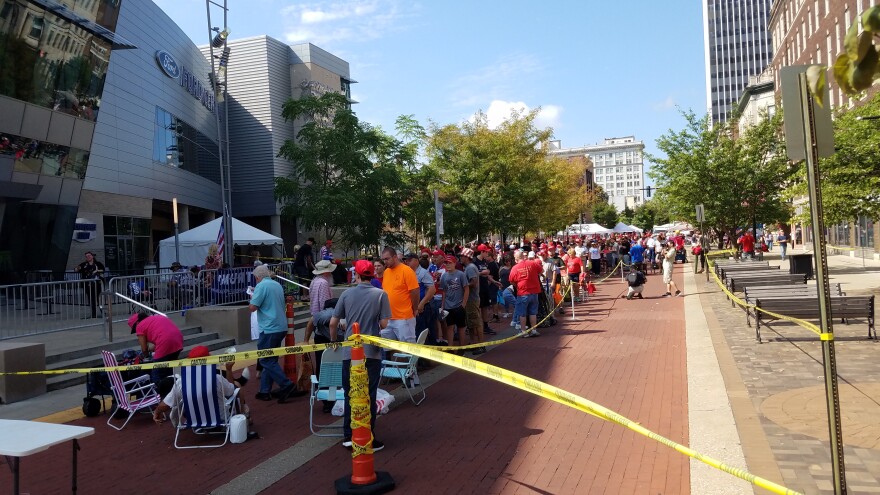 As many as thousands of opponents of the president's policies from several states are expected to protest. The main protest area will be at Ninth and Locust Streets, just east of the Ford Center.