Transparency portal useful, but not used
Hiding in plain sight might be one way to describe the Indiana Transparency Portal.
The online repository of virtually all of Indiana's expenditures, budgets, revenue and contracts has helped the state earn an A+ rating for state government. And yet, in 2016, the site's traffic averaged fewer than a thousand page views a day in a state of over six million people.
Indiana Auditor Tera Klutz has been in the office only about three months, but as the first Certified Public Accountant to hold the office, says the transparency portal is an important part of ensuring that taxpayers trust state government.
040317_transparency_two_way.mp3
WNIN's Steve Burger talks with Indiana Auditor Tera Klutz about the portal and how she plans to help state agencies achieve greater transparency.
WNIN's Steve Burger sat down with Klutz in her office recently for a wide-ranging interview that included the portal and how she plans to continue Governor Eric Holcomb's plan for transparency in state government.
Burger: "The transparency portal does revenue, expenditures, budgets and assets for the state. Is there a one-sentence description that puts that all together for us?"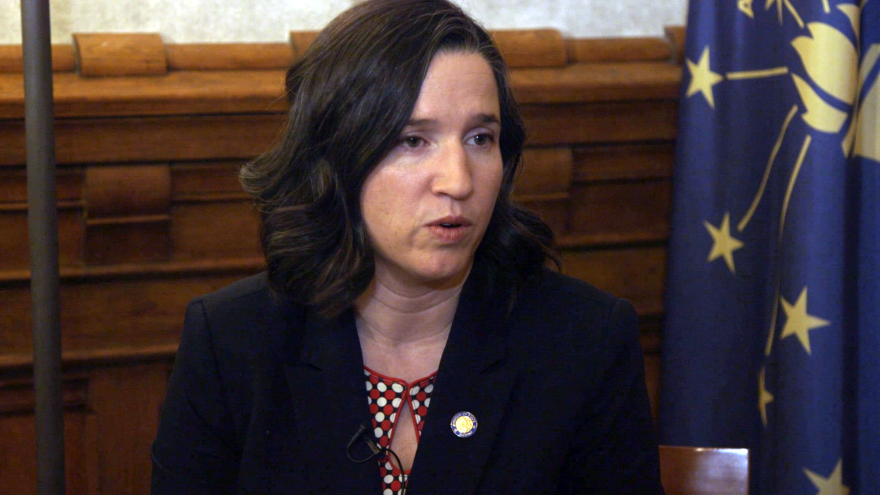 Klutz: "I like to think of it as, if you want to know anything about the finances of Indiana government, you can go to the transparency portal. Because it also includes contracts, which is a lot of times what we're auditing to make sure what we're paying off of, that the payments match. So, if they want it, we've got it."
Burger: "To play devil's advocate for just a moment, if you will, don't we end wasting some money answering inquiries that are made that people don't necessarily understand?"
If they want it, we've got it. -Tera Klutz
Klutz: "Not very much. A lot of times people come and they want to know a specific expense, or a specific vendor and how much they've been paid. Occasionally, you will have a taxpayer who doesn't understand what they're asking for, and they may ask for loads of data. Maybe it's just a taxpayer who is just really 'honked off', excuse me, or upset about something a state agency did and they just want to get back at the state and they want to see every invoice that's paid in 2016.
That would be really frivolous. So we would say, 'What do you want to find?', 'What do you want to see?' and just really help them work through it. And then have them come in and view it, right, 'cause then they would have to give their time up, however much time that is, to see the invoices. And then we'd make them come here and look at them."
Burger: "What do you hope your personal stamp will be on the transparency portal and the transparency effort?"
Klutz: "I'm excited that I got appointed by Eric Holcomb because I am really a proponent of transparency and I feel like we can just get better. What do taxpayers want? What does the media want? What do taxpayers want? What do they want to see when they come to the transparency portal because I want to prioritize my time and resources in getting the data that they want.
Or, is it maybe less data and then have resources available for them to make inquiries of different specific data. And so, I'm excited to carry that forward. I would also like to, as the first Certified Public Accountant to hold this office, I think I have some experience in training to continue, go to the next level in this office with transparency, with standardization.
Right now, a lot of the agencies are putting different transparency models on their websites. I would like to look at those and create standard processes, so we're all looking like the same thing so that a customer or a taxpayer knows what they're looking at.
You can trace a paper around all the agencies, but sometimes it's hard to trace that transaction when it happened into a computer. -Tera Klutz
I would like to also work on internal controls. As a Certified Public Accountant, they're near and dear to my heart, but the data is only as good as the data. And, we have to make sure that the data is accurate that we're putting out on the transparency portal. Also, at all the other state agencies. And, one way to do that is by, I'm going to hire an internal control guidance counselor, because a lot of our processes are moving to digital technology and they're all happening behind the scenes.
Transparency is hard sometimes when it works that way because, you can trace a paper around all the agencies, but sometimes it's hard to trace that transaction when it happened into a computer. And so I think we can help agencies by standardizing the processes to make sure their data is accurate before it goes online."
Burger: "Is it possible to get a hundred percent accurate in an organization as large as Indiana state government?"
Klutz: "That's a great question. I think we call it 'mitigating the risk'. Reducing the risk of a material misstatement, or of a misstatement anyway. I would say that's my goal. It doesn't mean we won't make mistakes, it just means we're shooting for a hundred."