Mayor Winnecke Won't Run in 2023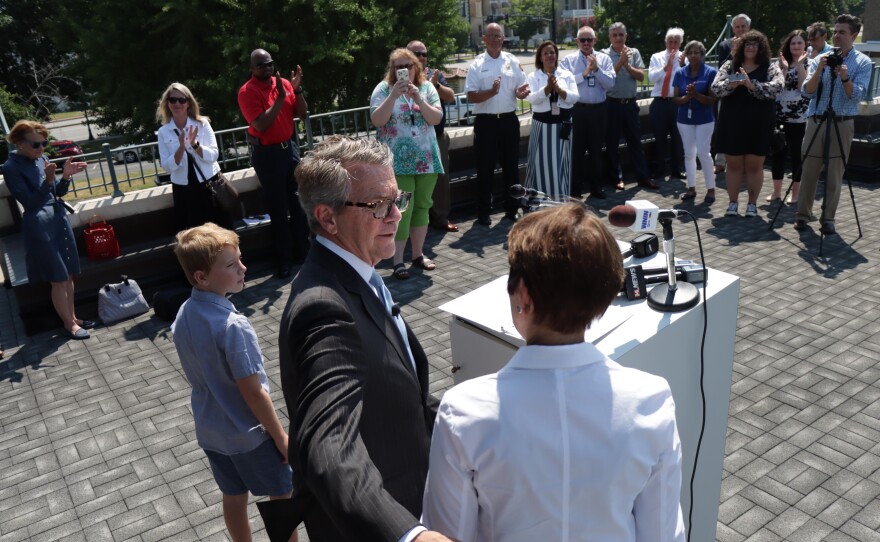 1
of
4
— 071122_Winnecki_not running_1.jpg
Evansville Mayor Lloyd Winnecke embraces wife Carol McClintock following a news conference Monday where he officially announced he'd not be running again. Winnecke first ran in 2011 and said it was time to move on and spend more time with family such as grand son Oliver (at podium.)
Tim Jagielo / WNIN
2
of
4
— 071122_Winnecki_not running_4.jpg
Winnecke. McClintock and grandson Oliver exit the elevator to the second floor of the pagoda building to attend the news conference on Monday.
Tim Jagielo / WNIN
3
of
4
— 071122_Winnecki_not running_2.jpg
Winnecke address members of the media along with city staff and department heads who attended his news conference Monday at the pagoda in downtown Evansville.
Tim Jagielo / WNIN
4
of
4
— 071122_Winnecki_not running_3.jpg
An emotional Mayor Lloyd Winnecke takes a pause during his news conference Monday, where he announced he wouldn't be running for mayor again in 2023, his wife Carol McClintock beside him.
Tim Jagielo / WNIN
Evansville mayor says it's the end of politics for him
Evansville Mayor Lloyd Winnecke will not seek a 4th term. WNIN's John Gibson has details:
Winnecke first posted on social media that he wouldn't run in 2023 and then invited the news media to the roof of the Pagoda to make it official.
He said he will seek a "new professional challenge":
"And to be clear, I don't know what that is yet. I fully intend to complete the entirety of my term which runs through December 31st, 2023."
Winnecke promised to continue working on city projects:
"Over these next 17 months, it's pedal to the metal continuing to work for the city. And all the projects that we've started, it doesn't matter what department it is in, we'll continue to try and get as much as those accomplished as possible."
Winnecke cited projects that were completed during his administration, including the aquatics center, the medical school, and the penguin exhibit at Mesker Park Zoo.
He said he hoped to have news on the former site of the 420 Main building "relatively soon."
The city has said a planned commercial-residential project at the site had to be re-tooled because of economic conditions.