Evansville Ukrainian Community Helping Friends Back Home and Welcoming Refugees
WNIN's Sarah Kuper spoke with a representative from Grace of Christ Slavic Church in Evansville.
At Grace of Christ church, an American hymn is sung in Russian by a largely Ukrainian congregation.
Victoria Mayatskiy is like many of the members of the church. She and her husband came to Evansville many years ago. They still have friends and family in Kharkiv. She says war has been happening in Ukraine for eight years but on February 24th, everything changed.
"They informed us that they hear bombings. When I got the news, there was no more sleeping. Just praying, crying, shaking all night. What could this be now?"
That first sleepless night, Victoria says she felt a kind of guilt and helpless anguish over the stark difference between her life and the lives of people back home.
"It was nighttime and it was so quiet. And it is so not quiet there. I'm not hearing it, I'm not living it but it is inside, there is a war. The first few days, I saw people walking their dogs, at the grocery, smiling at school pick up. Honestly I'm afraid to call them <my friends>. I do not want to facetime because I don't even know what to say. I am here in safety."
She says the shock and near paralysis eventually gave way to a panicked feeling of "we've got to do something". That's when the church formed what they call a "mission".
"We have three places our money goes, for food, medicine and evacuation."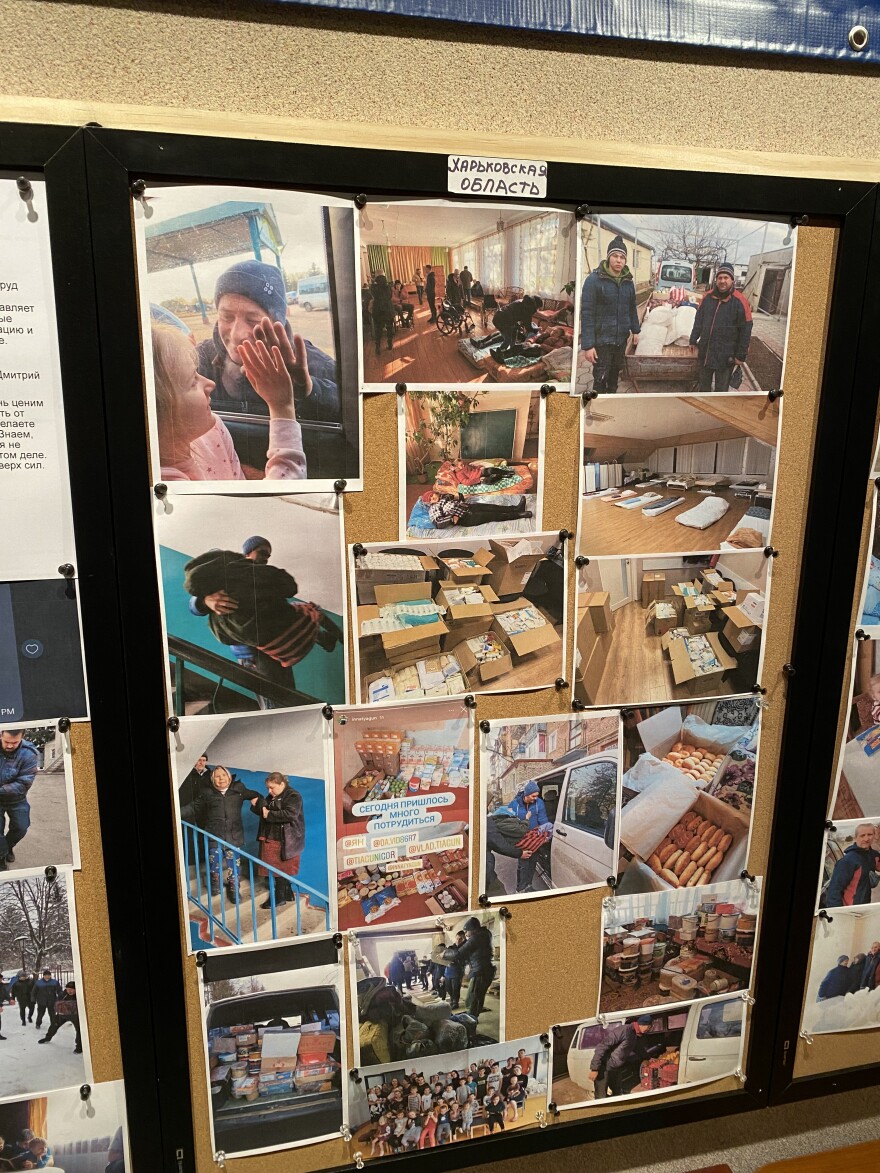 People like Victoria reached out to their former churches in Ukraine to ask how they could support them. These volunteers aren't just serving their own congregations in Ukraine, they are forming small humanitarian armies – going unarmed into places like:
"The areas around Kyiv, Kharkiv… no one was going to these places it is just so dangerous. If you make that trip it may be your last. But after a period of shock, our volunteers decided they needed to go even though it is so dangerous. We did lose some volunteers. People we know, we did lose them.
Grace of Christ Church posts videos online daily.
In one video a grateful elderly woman cries as she receives basic supplies and heart medicine. Volunteers try to reassure her and ask others what they need so they can bring it if they can come back.
Before the war escalated, the local Slavic community was private. Between not knowing many people except other immigrants and the language barrier, the church was unknown to the Evansville community. But Victoria says, not anymore:
"We are overwhelmed. We had a fundraiser and it was so successful and, my goodness, we did not expect it we ran out of food so fast."
Grace of Christ Church has around 150 members and lots of children. Several more children will be joining when they arrive from Ukraine.
While Victoria and other members of Church of Christ hustle to raise money for volunteers in Ukraine and prepare for refugees coming to Evansville, they are also doing what they say is most important – praying. Victoria says God is listening:
"Sometimes the bombs come and they don't go off. They just land in the road and don't explode. It's a miracle."